Welcome to the fourth blog in our Fearless Series on SOCIAL MEDIA. So far in this series, we've shared tips on how to find the right social media platform, how to use the best practices for social media content creation and how to build a social media strategy.
Today, we're looking at another critical part of social media: Social media influencers.
Working with social media influencers can be a huge advantage to your brand. To learn more about why, when and how you should work with influencers, read on.
What is a social media influencer?
A social media influencer is any person or brand account that has a strong presence on social media. With dedicated followings, they are viewed as experts for their respective niches and industries. Their followers tune in and engage with their content, meaning they can impact a relatively large audience's thoughts and behaviors.
Influencers and brands collaborate most commonly on YouTube and Instagram. And though influencers are often celebrities, they aren't always. For example, actress and singer Selena Gomez (@selenagomez) is one of the most-followed accounts on Instagram and a prominent influencer, whereas YouTuber David Dobrik rose to fame because of social media, now giving him celebrity status.
Why consider working with social media influencers?
Working with social media influencers offers opportunities for strategic placements, endorsements or product mentions. Brands can also align their influencer marketing strategy with their business goals, whether that's:
Increasing brand awareness.
Establishing or boosting brand credibility.
Reaching new audiences.
Driving traffic to a website or profile.
Working with an influencer can be cost-effective, especially if you're targeting a niche audience. Smaller influencers may feature your brand without requesting payment. Trade is a common compensation. For example, you might ask a food influencer to feature your restaurant in exchange for a free meal. 
How to work with social media influencers
When reaching out to an influencer, word your message as though it is a professional business partnership, because it is. Match your tone to your company, whether you're reaching out by email or Instagram direct message.
Think about a transaction. Do you want an influencer to recommend your product or service to their followers? What can you offer in return? This might look like payment, or a trade of goods or services – perhaps even an exclusive experience. Keep in mind influencers behind the accounts are human. They want to create high-quality and engaging content, but they might also want to partner with brands aligned with their values, to travel, experience, or access something unique, or to be compensated in line with the size and devotion of their following.
At Fearey, when reaching out to social media influencers, we detail all expectations up front, including the number of posts we want them to share, language or branded hashtags we want them to use, relevant account tags and ways to disclose the partnership. Before an influencer comes to visit, experience, feature or try a product or service, we make sure those expectations are agreed upon and in writing.
Once you've initiated a collaboration with an influencer, there are some options for how they promote your brand. Costs and collaborations may vary, and many influencers offer media kits with the fine print spelled out. In general, though, these are the collaborations you might consider.
Social Media Mentions: An influencer will @ mention your brand or give a shout out in their post, video, story, etc.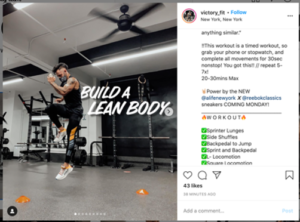 Sponsored Content: Your company pays for your brand to be featured on an influencer's blog or social channel. If you'd like more control, your company may create the content. Posts will be most often be labeled as #sponsored or #ad to comply with Instagram branded content guidelines.
Gifting: Giving free products and services to an influencer in exchange for a review or mention.
Contests and Giveaways: Ask an influencer to host or share a giveaway. Most times, you'll ask users to follow both the influencer and your brand's accounts to enter, increasing social followings across the board.
Influencer Takeover: An influencer will take control of your social media accounts for a set amount of time. This requires giving them log-in access. You should determine what type of content they'll be posting prior to the takeover.
Discount Codes: Brands will sometimes provide influencers a unique discount code for a product or service that the influencer can then promote and offer to their audience.
Affiliates: This collaboration involves providing a unique code that gives influencers a percentage of each sale they drive on behalf of a brand.
Brand Ambassadors: Your business forms relationships with loyal fans. They then promote your brand, product or service in exchange for exclusive offers and pricing, free products, being featured on your brand page, etc.
Choosing an influencer
Influencer marketing is about gaining exposure among a target audience. Pay attention to post and video engagements — they can be more telling than likes alone on how an influencer's followers might engage with your brand's specific content.
Influencers are categorized into levels depending on follower count. Generally, influencers have at least 1,000 followers
Bigger isn't always best when determining the type of influencer to work with. Consider their followers, their style and their tone in posts. You'll also likely want to work with someone in your area, especially if they need to attend an event or visit a location. For larger-scale projects and travel influencers, you may need to account for travel and lodging in your influencer budget.
Concerned about or limited with your budget? Influencers can still offer inexpensive or free exposure for your company.
If you're in an industry that doesn't typically work with influencers or simply haven't done this kind of work before, feel free to reach out. A member of our team can help you build an influencer marketing strategy from scratch. In our next and final installment of our SOCIAL MEDIA series, we'll help you consider how to create a paid social media strategy.
Until then, stay fearless.